Home Blanks Components Thread Finish Products
CLOSEOUTS
HYPALON REAR GRIPS

7" x .400" i.d. - $1.00 ea
10" x .400" i.d. - $1.50 ea
12" x .525" i.d. - $2.00 ea
GUDEBROD METALLIC RAINBOW
SIZE A OR D
12 SPOOLS - $6.00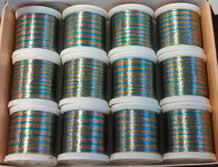 FLY CORK & REEL SEATS CASTING & SPINNING CORK HANDLES
Utmost Enterprises occupies two buildings in the Pacific Northwest city of Sequim, Washington.
Our outlet store inventory is made up of closeouts and stock overages from major manufacturers and other wholesalers. We have dedicated our second building to our wholesale business.
To set up a wholesale account OR place a retail order - call (800) 588-6678 or email utmost39@aol.com OR
click here for more information.
11 East Runnion Road, Unit B - Sequim, WA 98382
GET DIRECTIONS & MAP
LOCAL PHONE : (360) 681-8748 LOCAL FAX: (360) 681-8758
EMAIL: utmost39@aol.com